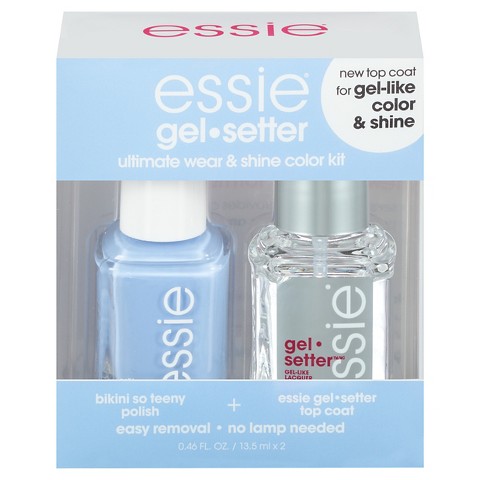 A weekly manicure is, no joke, my lifeline. I can't do bare nails. I've tried. I feel weird and naked and like something is missing when I'm not rocking a color on my tips and toes. It's my weekly indulgence for myself, and I have fun changing up my color each time.
I've also tried to master at-home manicures (my mom used to do nails for a living in her twenties and it's so embarrassing how bad I am at it) and I simply can't figure it out. It always comes out goopy, or streaky, or smudged, or all over my cuticles. I may have been blessed with my mom's smile and thick hair, but I definitely didn't get her nail talents. So completely unfair.
I'm a die-hard Essie fan, and will defend them over OPI til I'm bermuda blue in the face. (see what I did there?) Their polishes just last the longest for me. I can generally make a manicure last the full week without chipping, and can even sometimes go longer. I love their selection of colors, I love the polish names, and I look forward to seeing their new collections each season. I'll always be an Essie girl.
So when I saw the adorable ads for Gel-Setter, their new top coat, I knew I had to have it. I've gotten gel manicures before and while I love a manicure that can last and remain shiny and chip-free for almost three weeks, I hate the removal process and how brittle and weak my nails are afterwards. I only get them for special occasions.
Gel-Setter is essentially a top coat that gives you the shiny gel finish we all covet, but without the need to keep nails under a lamp. It's also removed with regular polish remover.
It was a bit thicker than I was expecting and definitely thicker than normal top coat, but it made my regular manicure instantly glossier. I wouldn't say it made my manicure last longer, but it felt like it had a nice protective coating over it. And my nails looked amazing — even my dad said they looked fabulous (my dad doesn't notice things like that, so I take his compliments in a high esteem!).
Essie Gel-Setter is a great top coat and a must-have for ladies who DIY mani or who visit the salon. You can buy it anywhere Essie polishes are sold, and it comes on its own or with a popular Essie shade for a cheaper price (they had one of my favorites, mint candy apple). LOVE.
xo A